Quality Care & Services: Eligibility for our services will not be based on client's race, color, religion, age, gender, sexual orientation, disability (mental or physical), communicable diseases, or place of national origin. Our agency administers only the most experienced and well-trained professionals. We strive to involve the patient, his/her family members, and physician when creating each individualized plan of treatment.
Multi-Lingual Staff: In addition to English, our diverse staff is fluent in Spanish, Chinese, Vietnamese, Tagalog, Russian, Arabic, and Farsi to better meet our patients' needs.
Testimonials: Click here to read about what patients think of

Nightingale Home Care, Inc.

Awards & Recognition

Licensed By The State Of California
Certified By The Centers For Medicare and Medicaid Services
Accredited By JCAHO
2008, 2009, 2011, & 2012 – Every year's HomeCare Elite™ is the compilation of the most successful home care providers in the United States. They rank every winner by an analysis of measures in quality of care, process measure implementation, and financial performance. In 2008 & 2009,

Nightingale Home Care, Inc.

was named one of the top 500 health care agencies in the United States.
We are proud to announce that in 2011 and 2012, this market-leading review has named Nightingale Home Care, Inc. in the top 25% of agencies nationwide!
We have been selected for the 2014 Best of La Mesa Award in the Home Health Care Nurses category!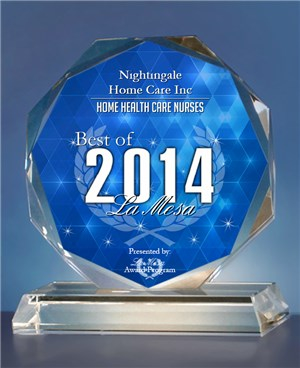 Every year, the La Mesa Award Program aims to recognize the best of local businesses in our community by honoring their accomplishments. We are very proud to receive this distinction, and we owe this success to our exceptional team of LVNs and RNs. We are confident that if you or your loved one chooses Nightingale, you will be in good hands.